Wednesday 25th March
English:
Today, English is a little different; I would like you to spend some time reading over the synopses (either by yourself or with a family member) of these 5 books. Think about your likes and dislikes and what appeals to you and put your opinion across to what story you would like me to read and add to the 'Stories' page on this website. This will be for you to listen to each day, whether that is when you get up in the morning or just before bed.
To the right- you will see a tab labelled 'What book would you like Miss Hughes to read next?' I love spending time reading to you and I don't want to lose touch with that.
Have a read of the 5 synopses and then cast your vote!
Guardians of the Wild Unicorns by Lindsay Littleson:
The first time Lewis spots the dark smudge of an unfamiliar creature tracing a path across the moor he thinks he might be dreaming – or perhaps has even died of fear. After all, he is dangling from a precariously swinging rope half way down a sheer cliff face. His friend Rhona thinks it's more likely that he imagined it, especially as he wasn't wearing his glasses.
When the pair discover that Lewis's vision was real, and that they have stumbled upon the world's last remaining wild unicorns, they are forced to turn detective in order to save the magical animals from ruthless exploitation.
Lewis and Rhona's heroic story is suffused with genuinely funny moments, as well as a real sense of jeopardy and some painful revelations about their personal circumstances. Set in the stunning wilderness of the Scottish Highlands, and with an underlying environmental message, this adventure thriller for middle grade readers mixes mythology and suspense in a contemporary page-turner.
A Series of Unfortunate Events by Lemony Snicket
The Bad Beginning is the first of 13 volumes in the appropriately named collection, A Series of Unfortunate Events.
The comically dark tale centres around three children, Violet, Klaus and baby Sunny, whose parents are killed in a fire which also destroys their home - a tragic event which sets the tone for the rest of the book. Sent to live with Count Olaf, a distant relative, their unsettled lives take a turn for the worse. Count Olaf treats the children like slaves, ordering them to cook, clean, fetch and carry for him and forcing them to share a single, filthy bedroom, with only one bed.
When Violet turns 18, she is set to inherit the family fortune and it soon becomes clear that Count Olaf is determined to get his hands on the inheritance, by whatever dastardly means necessary. It is up to the three plucky children to outwit the Count, but as all other adults seem to have been taken in by the evil man, this proves to be an extremely difficult task.
Harry Potter and the Philosopher's Stone by J.K Rowling:
After the misery of life with his ghastly aunt and uncle, Harry Potter is delighted to have the chance to embark on an exciting new life at the Hogwart's School of Wizardry and Witchcraft. Learning about magic and making new friends, he has the chance to use his new-found wizarding skills to unravel some of the mysteries of his own past - and to uncover some shocking secrets about his teachers.
This brilliantly inventive, award-winning adventure story is the first in the phenomenally successful Harry Potter series. With shades of Diana Wynne Jones, Enid Blyton, Roald Dahl and Jill Murphy's The Worst Witch, this contemporary classic of children's literature is beloved by children and adults alike.
The Last Zoo by Sam Gayton
Pia lives on the last zoo: a floating armada that houses the strangest collection of creatures the world's ever seen, from genies to mirror-orangutans to hummingdragons. Collectively called 'voilas', they each have a special ability, and everyone hopes these will help save the world from environmental catastrophe.
Pia looks after the angels, their greatest hope. Then one morning they vanish. Panicked, she desperately searches the zoo for any sign of them – but finds something else altogether. An invisible creature is stalking the zoo, sinister forces are at work, and Pia and her friends must find a way to stop it before everything falls apart.
The Last Zoo is a first-class novel with exceptional world-building. An adventure-quest with lightly fantastical elements, it's fast-paced, has lots of humour and a wonderful range of characters. A brilliant book for anyone looking for a new world to get lost in, it has an environmental message and hints of dystopia whilst also being incredibly hopeful.
Alice's Adventures in Wonderland by Lewis Carroll
When Alice falls down a rabbit hole into a strange land inhabited by talking rabbits, smoking caterpillars and grinning cats, she finds herself undergoing several challenges both physically, intellectually and emotionally, as she tries to find her way back home.

Written in 1865, Carroll's surreal and strange world continues to delight and mystify children and adults alike with its anthropomorphic animals, logical puzzles and wacky songs.
Maths:
Miss Hughes' group - L.O. I can see how to make a whole using fractions
Today you are learning about how you can look at whole shapes and see that when a fraction is the same as (equivalent to) a whole, the numerator and denominator are the same. So, if 1/3 of a shape is shaded, what fraction of the shape isn't shaded? (2/3). If we add these together we get 3/3 and this equals a whole.
Watch the Lesson 2 video to help you (ignore the part at the end where it tells you to answer the questions on the worksheet). Remember, you can watch the video as many times as you like.
https://whiterosemaths.com/homelearning/year-3/
You have Bronze, Silver or Gold activities to complete. Start where you need to as it's important you feel confident about what you are doing. Please talk to your parents about what you are doing, especially if you are finding it tricky.
Mrs. Gregory & Mrs. Postlethwaite's group - L.O. I can write tenths as decimals
We are going to use the work you have been doing on recognising tenths and hundredths to start writing these as decimals. This is all about being confident with place value so please draw out a place value grid to help you. This will help make this lesson much clearer to you and you should see the link quite quickly.
Watch the Lesson 2 video for a detailed explanation of what you are being asked to do. Ignore the part where you are asked to answer the questions and complete the work I have attached to the page. Watch the video as many times as you need to.
https://whiterosemaths.com/homelearning/year-4/
You have Bronze, Silver or Gold activities to complete. Start where you need to as it's important you feel confident about what you are doing. Please talk to your parents about what you are doing, especially if you are finding it tricky.
Computing:
Coding - L.O. I can create a simple animation
We are going to continue with our work on coding. As it has been a couple of weeks since we started this, I think it would be a good idea to recap our first lesson to ensure everyone understands what they are doing! Remember, if you go wrong, you can always reload the template and start again. This session is all about experimenting and trying things out. Coding can be difficult so have a play and see what you can do! Most importantly, enjoy what you're doing :)
Log onto J2e and then click on J2Code. Along the top of the page you will see the links to the lessons:

Click on Year 3/4 Lesson plans and click on the video for Lesson One: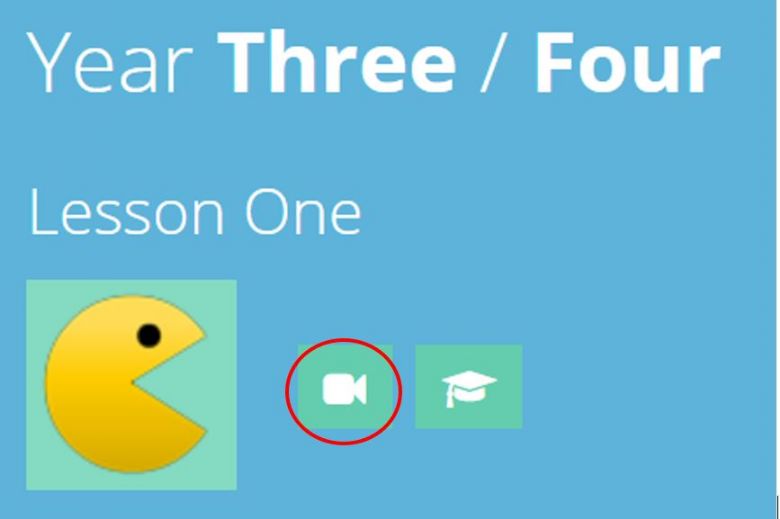 Watch the video and then click on the lesson plan icon: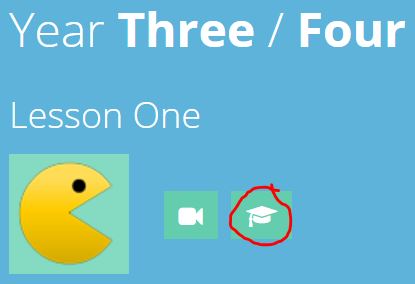 Scroll down the page and click on the link for an example of what you are going to do:

Play this a couple of times and then click on the template:

This is what you are going to use to complete the following tasks:
Task 1- experiment with making one of the sprites move and animate using the "repeat", "move forward" and "switch costume to next" blocks.
Task 2- get the second sprite to move and animate so that the two sprites meet.
Add in a "say" block
Challenge
Try some different actions when the sprites touch. Experiment with new backgrounds and animations. Try to make the sprite say something as its mouth opens like in the example.