Thursday 2nd April
If you have not seen the video of our school chicks hatching then click back on the Home Learning icon, click on Thought of the Day and watch the chicks. It is amazing! It might inspire you for our English activity.
Reading.
To keep up with your reading try the website oxfordowl.co.uk
Once you have set up an account (which is really easy to do and free!) you can view e-books many of which are the same as the ones we have in our reading scheme at Abberley. If you browse the library by Level and select Book Band it will sort the books by colour band and you will be able to select the level your child is reading at school.
Phonics: Watch Geraldine the Giraffe to learn some more 'tion' words.
Afterwards, can you write down all of the 'tion' words you can remember from this week? How many did you manage to remember?
I have attached a 'tion' word search if you want a different way to practise looking for 'tion' spellings.
English: Today you are going to create your own Easter poem which must include verbs and a simile. Be creative with your language and make sure you are selecting words which make sense and will sound good when you perform it tomorrow. Choose the level of challenge.
| | |
| --- | --- |
| Bronze | Use the template below and replace the verbs (underlined) and simile (in the box) with your own ideas from yesterday. |
| Silver | Use the template below and finish the sentences using your own choice of words. Remember to include exciting verbs and similes. |
| Gold | Using your knowledge of Easter completely create your own poem. It must include descriptive verbs and similes. How creative can you be? |
Maths: Warm up. Follow the link below to warm up your mental subtraction.Use the tabs at the top to set the level of challenge you want. Write down your answers in your home learning book and then check your answers at the end.
https://www.topmarks.co.uk/maths-games/daily10

Watch the film to remember the method for solving subtraction questions.
Activity: Choose the level of questions you are going to solve.
| | |
| --- | --- |
| Bronze | Subtraction up to 50 |
| Silver | Subtraction up to 100 |
| Gold | Subtraction of HTU numbers |
Creative Activity: In science you have been learning about animals. Go with an adult and see what bits and bobs you can find in the shed, garage, recycling box, junk draw or garden.
This is what I found in my kitchen junk draw.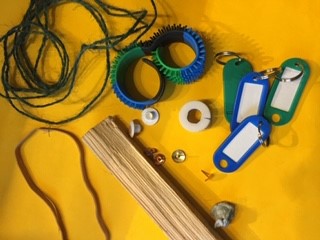 Can you create an animal using your finds? Try and join materials using different methods. The finished product can be whatever size you like. Remember to use things like scissors, glue guns etc under adult supervision.
Take a photograph and pop it in your home-school book or if you can upload a picture on to J2E then I can share them with the rest of Skylarks. Here is one I made earlier. It's a croc-a-meleon called Bob.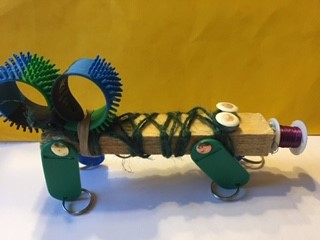 Have fun and get creative! I have uploaded some different ideas below.
Monty has been helping to tidy up the garden. Why don't you ask your adult if they would like any jobs done in your garden.