Thought for the day
The We would normally have an assembly every day. However, with the school being closed, I thought it would be a good idea to continue to share thoughts and stories relating to our vision and values and spiritual capacities. These might come as pictures, videos or stories, but I hope they help you to think and learn and continue to live your lives as best as you can.
This If you would like to contribute a thought for the day, please e-mail it to [email protected]
Thursday 16th July (Shared by Mrs Lightfoot).
The last week of term is always a time of mixed emotions when we think back on the things we have done over the year and the happy memories. It is also a time when we prepare to say goodbye to the children as they prepare for a new stage, whether it be a new class, a new key stage or even a new school. Change is always unsettling. It can be exciting but it can also make you nervous. As I was thinking about this I was reminded of a poem that was shared at my leaving service when I left primary school.
Tuesday 14th July (Shared by Mrs Postlethwaite).
As we come to the end of term, let us reflect on this very unusual school year and how well we have tried to live by our school and spiritual values every day.
If faced with a situation that made you scared did you take a deep breath carry on as best you could? If you did well done, you were courageous.
Have you been grateful for a kind word, a small gift, flowers growing in your garden, someone helping you out or a sunny day. If you did well done you have been thankful.
Have you said kind words, helped others, listened to someone's problems donated to a charity or felt sad for other people's problems? If you have, well done, you have been compassionate.
When sharing out your favourite treats, birthday cake, time or attention have you tried to treat your friends equally? If you have, well done, you have shown justice. Have you told the truth even when it has got you in trouble? Have you told the truth when you could have got away with telling fibs? If you have, well done, you have been truthful.
Have you tried your hardest to carry on with schoolwork and do your absolute best? Have you tried to learn from your mistakes and not give up? If you have, well done, you have been wise.
Have you accepted an apology when someone has broken or lost something belonging to you? Have you tried to let go of angry feelings or maybe give someone a second chance? If you have, well done, you have been forgiving.
Tuesday 30th June (Shared by Mrs. Gregory & Bubble 3 children)
The focus today is how our school vision and values have been shown throughout the school year. Who better to ask this than the children in my bubble? They are a mixture of Key Stage 2 children. We spent time discussing each value and how they felt they had shown them. Here are their thoughts:
I fell over and I didn't cry.

Being brave when starting school.

Some of the residential activities we had to do in Y6 meant I had to show courage.

Being thankful that the school is open so that we can see our friends and still learn.

We are thankful for the teachers and teaching assistants who help us learn.

We take part in charity events to show we are thankful for all we have.

If anyone falls over, someone always goes to help them.

We collect for the Salvation Army to help homeless people.

We want everyone to have a nice, comforting life.

It is so important that we care about others.

We always make sure that every person is treated equally.

We are there to support each other in good times and bad.

Honesty is the best policy.

It is important to tell the truth as if you tell a lie, it can grow and grow and get so much worse.

If we tell the truth, our teachers can help put things right

We can show wisdom by learning from our mistakes.

We learn how to make good choices through what we learn in school about how to treat people and how we would like people to behave towards us

If someone hurts you, you should forgive them as they are your friend.

I've forgiven someone as they are my best friend.

Being forgiving shows that you care.
Thursday 25th June (Shared by Mrs Lightfoot).
A few weeks ago we voted to name our Abberley chickens and the name chosen by Merlin's class was Rosa Parks who was an American Civil Rights Activist.
Rosa Parks was an African American born in 1913 in Alabama in the United States. At the time life for African Americans like Rosa was hard. The Southern United States operated under the 'Jim Crow laws' – a set of laws created by white authorities who thought black (at the time called coloured) people's lives didn't matter as much as theirs. These laws enforced racial segregation and allowed for discrimination against African Americans.
In the face of such racism, Rosa decided to make a stand for what was right. It was on the 1 December 1955 that Rosa truly sparked change. After a long day at work, she boarded the bus home and took a seat. At that time seats at the front of buses were reserved for white passengers, and the seats at the back for black passengers.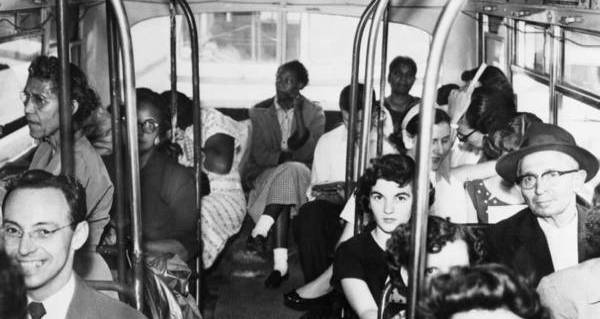 The bus quickly filled up and when a white man boarded, the driver told the African American passengers to give up their seats for him. Whilst the other black passengers obeyed, Rosa did not. The result? Rosa was arrested by the police and fined for breaking segregation laws. But Rosa refused to pay and argued that it was the law that was wrong, not her behaviour.
Rosa's action was the start of the Civil Rights movement, which led to changes in the law and the end of racial segregation.
Sadly, though recent events in America have shown us that racial discrimination still exists 65 years later. In the last couple of weeks you may have heard the phrase "Black lives matter" and seen and heard people talking about this.
Watch the Blue Peter video below which explains why racism is an issue which affects all us.
Treating someone differently because of the colour of their skin or where they come from is always wrong and something we must all work together to overcome. Rosa Parks spent her life working to end racial discrimination and she knew it would take everyone for this to be achieved.
Tuesday 23rd June (Shared by Mrs Postlethwaite).
As you have seen in recent thoughts for the day, forgiveness can be a tricky business!
When someone hurts our feelings, hurts us physically or breaks something that is special to us it can make us feel angry, sad and confused. Sometimes we feel so hurt we might feel like hurting that person back. Remember the story of the boy who was sitting on the wasp that stung him! This is called revenge.
Think about how you felt when one of your best friends decided not to play with you, maybe someone told lies about you, your brother or sister broke your favourite toy or someone let you down after making a promise.
Some mistakes are easy to forgive, some are much harder.
The problem is that when we are finding it hard to forgive, we are keeping hold of all those feelings that are not nice to feel and after a while they get heavier and heavier like dragging a big bag of rocks around. We feel more and more sad and hurt and we can get really stuck.
If we try to accept that people, make mistakes and we can forgive them then we are letting go of the big bag of rocks and freeing ourselves from the feelings we may have got stuck in. When we forgive, we will make ourselves feel better because we are giving ourselves a chance to feel happy again.
Thursday 18th June (Shared by Miss Harvey)
The Parable of the Unforgiving Servant is a parable of Jesus which appears in the Gospel of Matthew. According to Matthew 18:21-35 it is important to forgive others as we are forgiven by God, as illustrated by the negative example of the unforgiving servant
Tuesday 16th June ( Shared by Mrs Shelley) To Forgive or Not?
The Boy and the Wasp
One day, a little boy was sitting on a park bench. He was obviously in pain: his eyes were all screwed up and tears were pouring down his face. Under his breath, he was muttering, 'Ouch! It hurts . . . ow . . ."
A woman who was walking past came to sit with him and asked gently, 'What's the matter?'
The little boy answered between gritted teeth, 'I'm sitting on a wasp!'
The woman looked rather puzzled and asked, 'Well, why don't you get up?'
Clenching his teeth, the boy replied, 'Because I figure if I stay here, I'm hurting the wasp more than the wasp is hurting me!'
unforgiveness
The little boy was putting up with the ongoing pain of the wasp's sharp sting because he thought that somehow, he could pay the wasp back by sitting on it. How silly! Unforgiveness is like that. When we hold a grudge or keep feeling angry towards someone who has done something to us, it can sometimes hurt us more than it hurts the person who did something wrong. In the story, the boy could have got off the bench and over time, the pain would have gone away. However, he continued to sit on the wasp, and the wasp continued to sting him.
'Unforgiveness often hurts the person who will not forgive more than the person who did something wrong in the first place.'
Dear God,
You understand all about unforgiveness and what it does to people.
You sent Jesus to show us that we needed forgiveness.
Thank you for forgiving us when we get things wrong.
Please help us to forgive others.
Amen.
Monday 15th June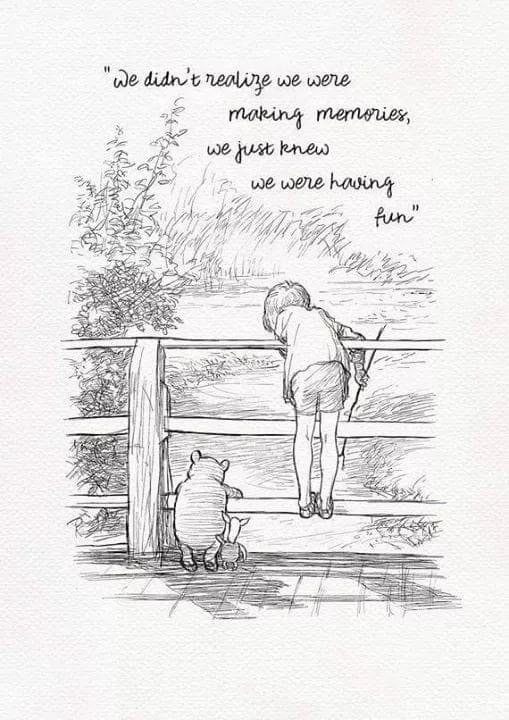 Tuesday 9th June (shared by Mrs. Gregory)
We are continuing with our theme of forgiveness and today I am focussing on grace. Grace in Christianity is 'unmerited favour' or something that is given to someone by God when it is not necessarily deserved or earned. We offer grace to people in our lives when we choose to respond with a kind word instead of being cruel. When someone is mean to us it is very easy to be mean back. Even when you feel someone may deserve a mean word, that is where grace comes in and you show them kindness. It doesn't mean that this is always an easy thing to do and you may struggle with this at times, but can you imagine a world where this didn't happen?
How do you think you could show grace in your life?
* Be kind and gentle in what you say and how you say it.
* Simple acts of kindness. Why not try and do at least one kind thing for someone else every day?
* Sometimes just being with someone is all that's needed to show someone they're loved. Be happy with the person who's happy, be sad with the person who's sad.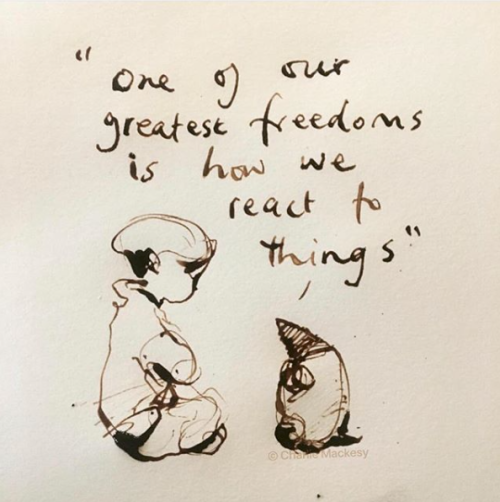 * Be quick to apologise when you make a mistake or have done something wrong.
* Be careful how you express yourself and speak to others.
* Say thank you often and let people know how much you appreciate them.
Thursday 4th June (shared by Mrs Lightfoot).
Earlier in the week Mrs Postlethwaite shared the parable of the Prodigal Son with you. I have always felt sorry for the older brother in this story. When the younger brother returns home, the Father forgives him for running away and wasting all his money and throws a party. The older brother is unhappy and quite rightly. He has stayed at home and worked hard and looked after his money. Why should he forgive his brother? No one has given him a party.
It can often be hard to forgive someone if they have hurt you or someone or something you love even if they really are sorry.
Have a look at the video below. Which bee is unhappy in the story?
That's right it was the angry bee. The angry bee didn't want to forgive and because of this he felt cross and unhappy just like the older brother. I once read that those feelings of anger and unhappiness are like carrying heavy bags around with you. Forgiving can be really difficult but when we chose to forgive it is like putting down those heavy bags and we feel much calmer and happier.
Forgiveness is a strength not a weakness. To truly forgive someone we need to show many values. To be able to forgive his younger brother which of our School Values do you think the older brother would need to show?
Tuesday 2nd June (shared by Mrs Postlethwaite).
Watch this video about the parable of The Prodigal's Son.
Think about the parable you have just watched.
What value do you think this parable highlights?
Think about the following questions:
Who do you found it easiest to forgive in the story?
Who do you think found it hard to forgive?
Do you think the older brother should try to forgive the younger brother?
How do you think the youngest brother felt when his dad was so nice to him?
Think about a time when someone has hurt your feelings, sometimes it can feel very hard to forgive and let go of the feelings of anger and upset. When we feel angry and upset it doesn't feel good in our bodies. Sometimes we can feel better if we try and forgive a person's mistakes and give them another chance.
Jesus wants everyone to know that he will always offer forgiveness and give people a second chance just like the dad did in the story.
Monday 1st June - Welcome back to learning
Thursday 21st May (shared by Miss Harvey)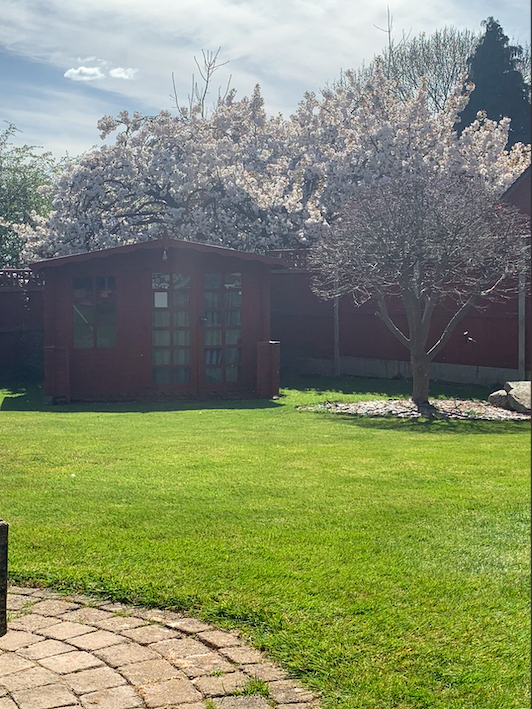 Yesterday, whilst sitting outside in my garden in the 24 'C heat, I remember thinking to myself how glad I was that I put on some sun cream as I know that when I sit out in the sun for too long, I burn very quickly and easily. This made me think: does the process of me remembering to put sun cream on make me clever or wise? We have spoken time and time again about the difference between what it means to be clever and what it means to be wise in our assemblies.
What do you think the difference is?
I think the biggest difference is that when we do something 'clever' it is often because of our understanding. Many people know the sun is hot which will possibly cause you to burn. However, when you have gone through the experience before, the past has taught you a valuable lesson. You may know that when you sit out in the sun, like me, you burn easily which means next time you do, you are wise enough to wear that sun cream!
Watch the video below to learn more about the differences between being clever and being wise.
Tuesday 19th May (shared by Mrs Shelley)
Our Collective Worship value for this half term in Wisdom.
'Wisdom is the ability to make good judgments based on what you have learned from your experience, or the knowledge and understanding that gives you this ability.'
Today I would like you to take five minutes to stop and think about these questions and decide if you are being wise - Are you making good judgements and choices and keeping yourself safe whilst online playing and learning? Are you applying the knowledge you have learned from your E-Safety lessons?
Remember SMART -

Enjoy singing along to our E-Safety song.
Thursday 14th May (shared by Miss Hughes)
Despite living in Worcester City Centre, I have been able to enjoy daily exercise through taking long and relaxing walks around the River Severn. This is something that I find incredibly enjoyable (and did so even before lockdown). For a very long time there has been a picture painted on a cut down tree. This painting is of a kingfisher- it was even there way before I became a teacher at Abberley. Now- when I see it, I think of all the children in my class and wonder how they are? How are they finding not being at school? Are they missing the learning and their friends? What are their thoughts and feelings about returning? Thinking about the children in Kingfishers class makes me then think of the rest of our school family, the Wrens, Skylarks and Merlins. Even though now this picture of the kingfisher on the tree is fading away, my memories and hopes for the children of Abberley are stronger than ever.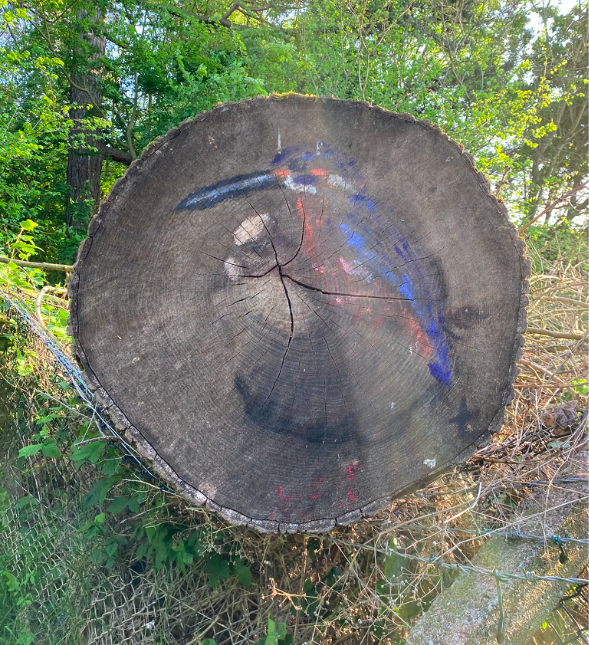 Tuesday 12th May (shared by Mrs Lightfoot)
Today is International Nurse's Day and it is also the 200th anniversary of the birth of Florence Nightingale.
Florence Nightingale is often said to the be the first modern nurse and it is in her name that was given to the new hospitals built around the country to treat COVID19 patients.
Florence Nightingale became a nurse against her families wishes. At the time few women worked, however, Florence believed she had a calling to help others and chose to study nursing. In 1854 she took a group of volunteer nurses to care for the casualties of the Crimean War. Florence quickly realised that death rates were increased by poor hygiene and poor conditions in the hospitals. By implementing practices such as hand-washing and proper sanitation Florence significantly reduced the number of deaths. Today we are all very aware of the importance of these things in fighting the coronavirus.
Florence Nightingale spent her childhood in a small village in Derbyshire. I grew up in the same village and her former family home was just up the road from my house. At the time I lived there it was a care home for the elderly. Something Florence probably would have approved of. I remember learning about Florence at primary school as we were very proud as a village to have an association with her. So today on International Nurse's Day please take a minute to remember and be thankful for Florence and the thousands of nurses around the world who are working hard to care for all of us.
Thursday 7th May (shared by Mrs. Gregory)
The beatitudes are a set of teachings by Jesus and they start with the word blessed, meaning happy. Reading these got me thinking about all of the things I feel blessed with: family, love, health and a safe place to live to name but a few. What things do you feel blessed to have in your life? If you immediately think about your family, have you told them how grateful you are to have them or how happy they make you? It is important to take the time to think about what makes your life happy, especially at the moment.
Wednesday 6th May - Virtual school trip
Tuesday 5th May (shared by Mrs Postlethwaite)
I recently had a conversation where one of my children told me that when someone instructs them to do something in a forceful way it makes them feel like doing the opposite.
I am sure if we were all being honest, we could relate to experiencing that feeling. It also made me think about the different ways we ask people to do things.
The Ten Commandments were rules given by God for people to live by, a list of things a person should never do for example:
You must not commit murder.
You should not be jealous of others.
If we were to turn the Ten Commandments around from rules we should never break to the rules we should always try to follow what do you think they should be?
Monday 4th May
A beautiful message from the Archbishop of Canterbury.
Thursday 30th April
Solomon was the biblical king most famous for his wisdom. In 1 Kings he sacrificed to God, and God later appeared to him in a dream, asking what Solomon wanted from God. Solomon asked for wisdom.
Wednesday 29th April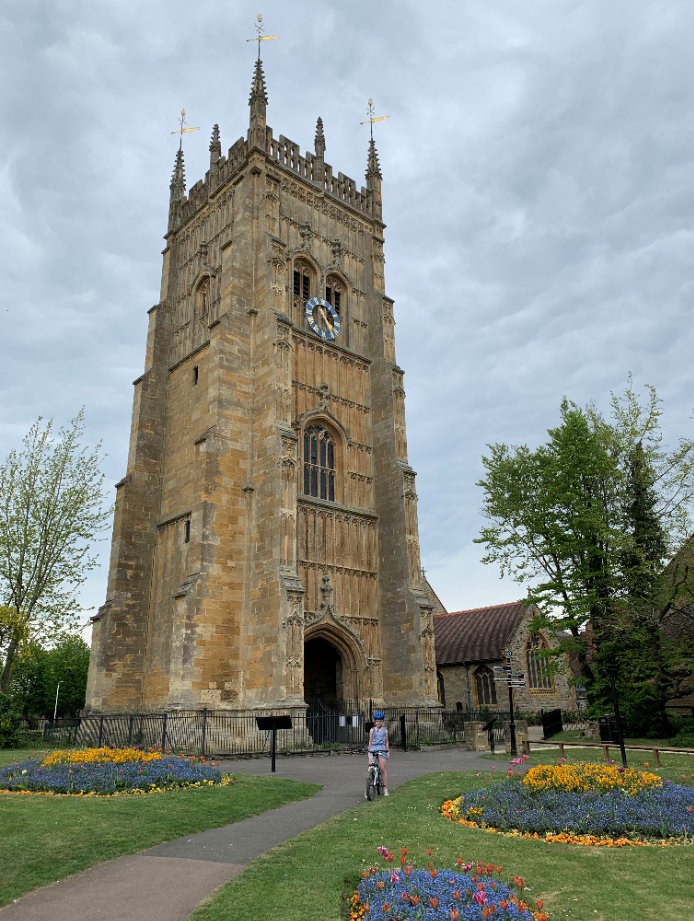 This week my daughter and I cycled into Evesham and went under impressive Bell Tower. You can see that it towers high up in the photo. However, once Evesham was home to the third largest Abbey in England, which was three times the height of the tower. The Abbey was built in Evesham because a swineherd call Eof reported seeing The Virgin Mary along the banks of the River Avon in this location. Following a visit from the Archbishop of Canterbury the siting was confirmed and this became a holy site where people travelled on pilgrimage from all over the country.
We have wonderful and interesting history all around us. Take some time to appreciate and discover more about the history of something. People are so interesting and learning about the past can tell you so much about the present.
Friday 24th April
Thank you to Hannah Polland for allowing us to share her story.
Thursday 23rd April
Happy St George's day. Thanks to Henry for sharing this with us.
Wednesday 22nd April
Our thought for today comes from Vickie, who volunteers weekly to support our CREW group.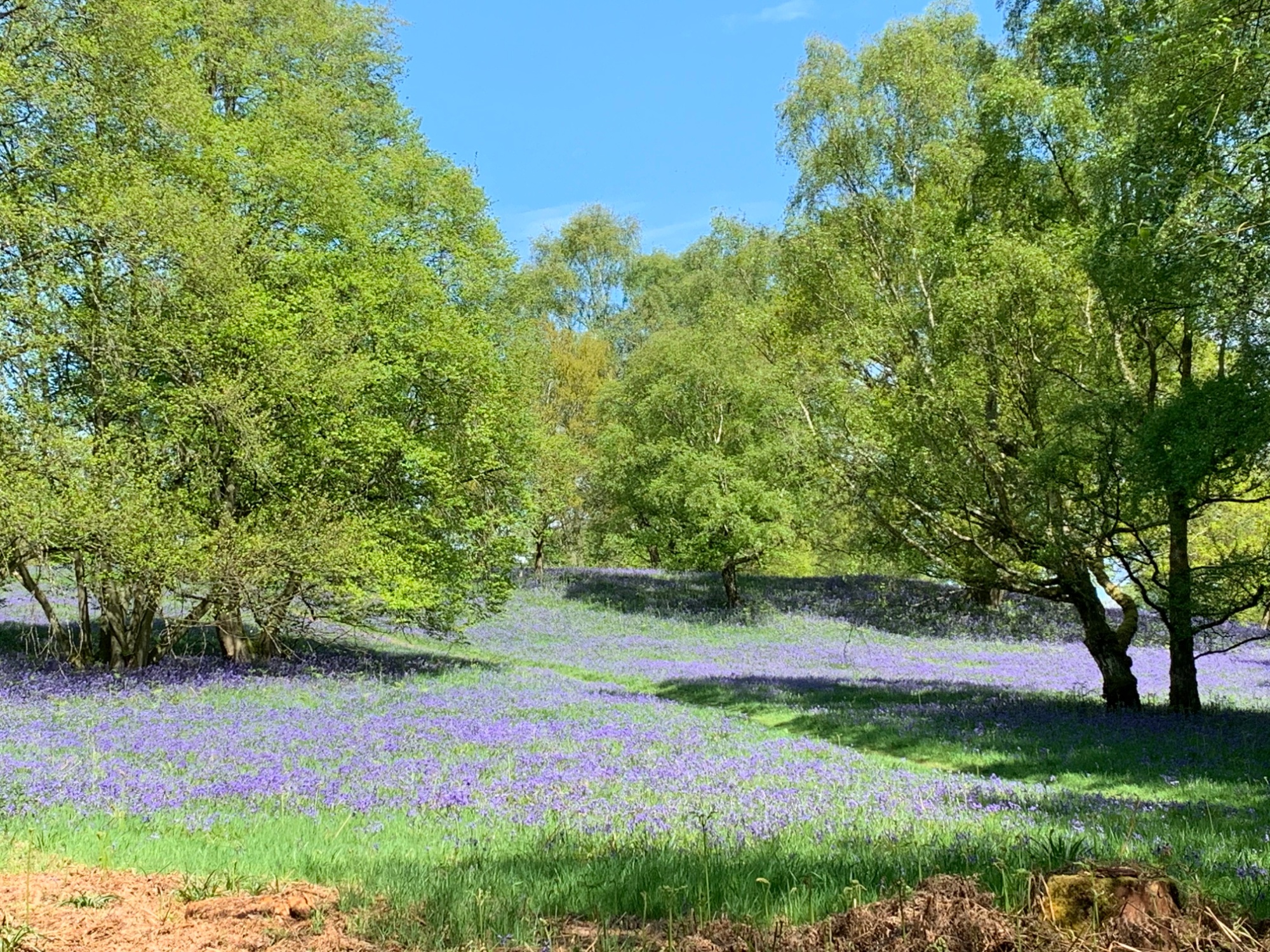 I was sent some pictures of a local woodland area - filled with bluebells.
A reminder that, in the midst of the lock down, God is still creating - colour, fragrance and beauty are all around us. We give thanks for the wonders of creation and join in praise with the writer of the psalms when he says,
"Lord, our Lord, how majestic is your name in all the earth! You have set your glory in the heavens... "
We are fortunate to live in a place of peace and beauty, and we pray for God's peace in the hearts of all who are isolated, lonely or who are fearful at this time.
Tuesday 21st April (shared by Mrs Lightfoot)
Our Collective Worship value for this half term in Wisdom.
The story from the Bible that we have chosen as a School to represent Wisdom is the Parable of the Wise and Foolish Builders (Matthew 7. v 24-27)
In this story, Jesus teaches us that true wisdom comes from trusting in Him and His word. If we build our lives on the basis of God's truth then we will have strong foundations in life like the wise man who built his house on the rock. This wisdom will help us to persevere when the storms of life come.
Matthew 7:24 "Therefore everyone who hears these words of mine and puts them into practice is like a wise man who built his house on the rock."
Monday 20th April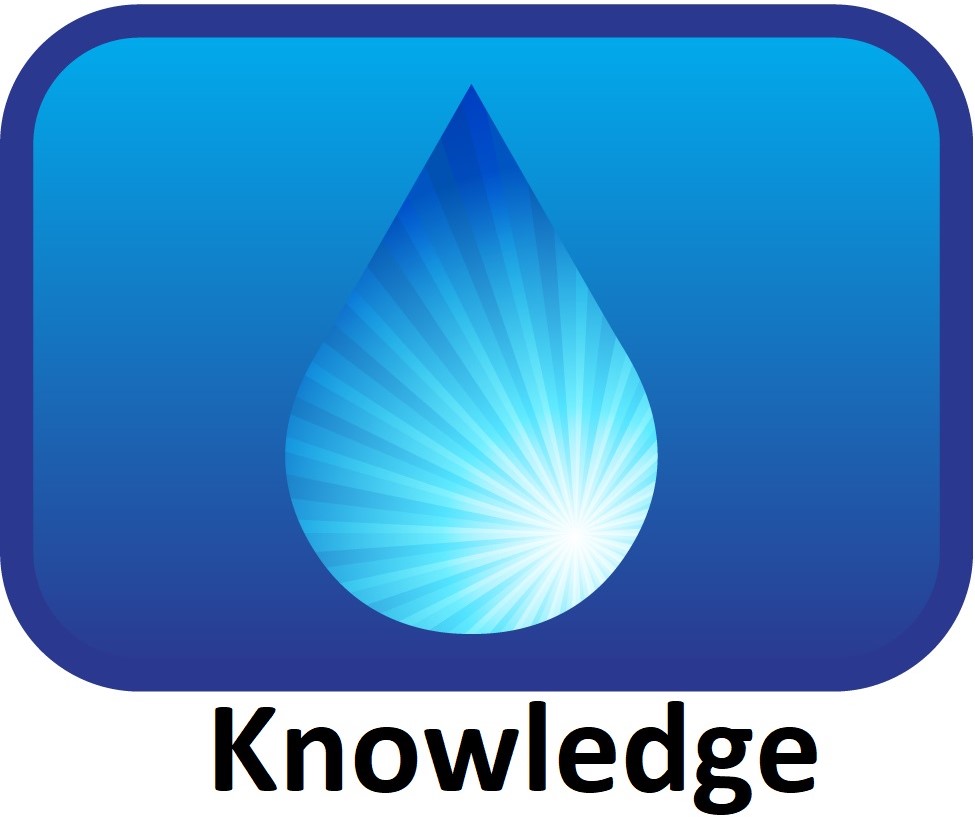 Our learning capacity this month is knowledge. Our certificates for the attributes all contain a quote. The one for knowledge says
"An investment in knowledge pays the best interest." Benjamin Franklin
Friday 3rd April
The Diocese of Worcester has also created resources to help think of worship ideas during this period of home learning. Follow this link to find out more. Church of England - worship at home
Thursday 2nd April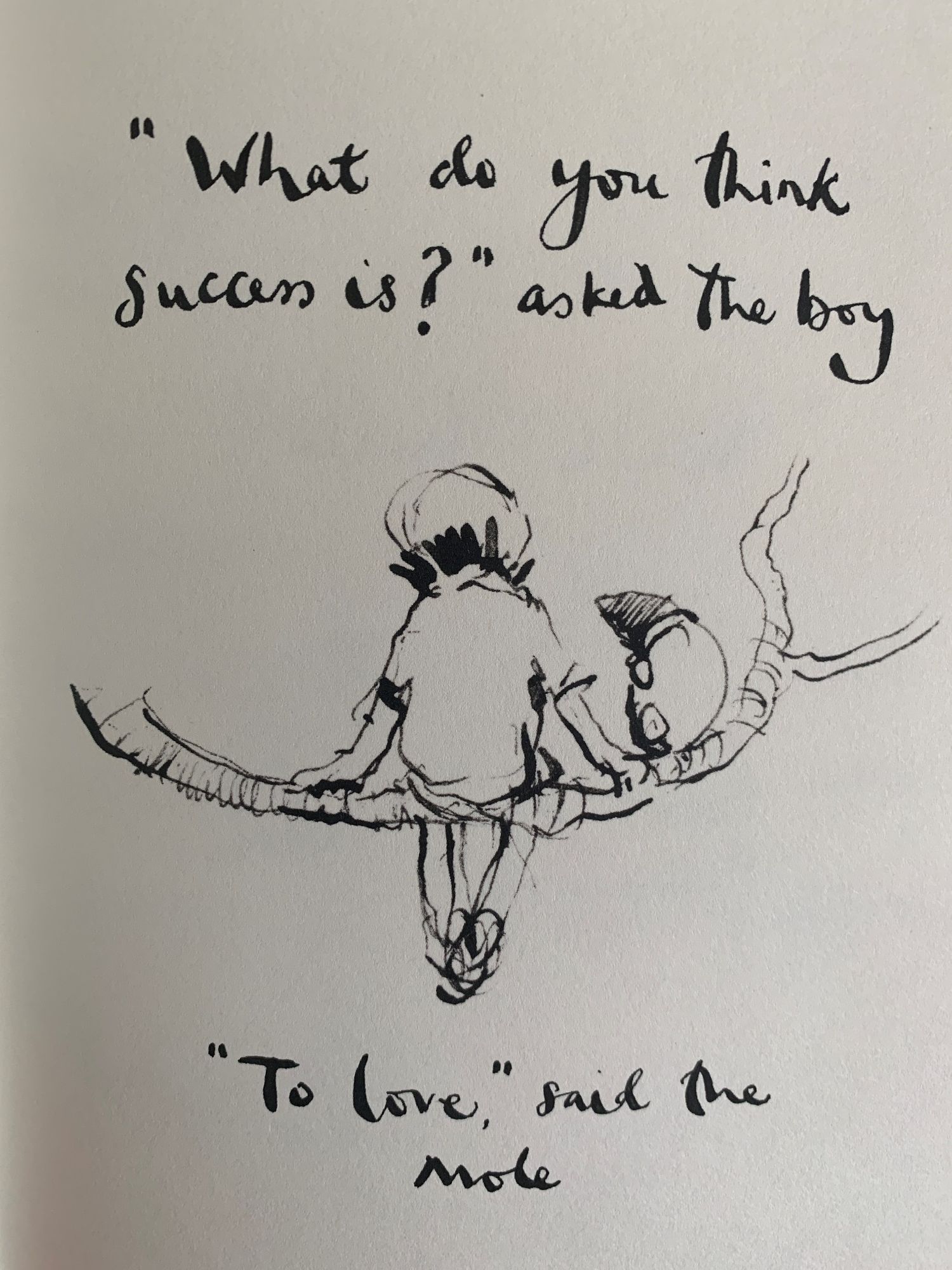 When I first read the book 'The boy, the mole, the fox and the horse' , I didn't find this page that thought provoking. However, today I reflected on it. Without love, we cannot be happy as without love we are less likely to care about oursleves and others. Many people would say hate is the opposite of love, but I think it is apathy or simply not caring for or helping others and ourselves. Would success even be success if we loved nobody to share that success with? We can only succeed with others to share our achievement.
Wednesday 1st April
Even though things might be changing, keep your spirits high and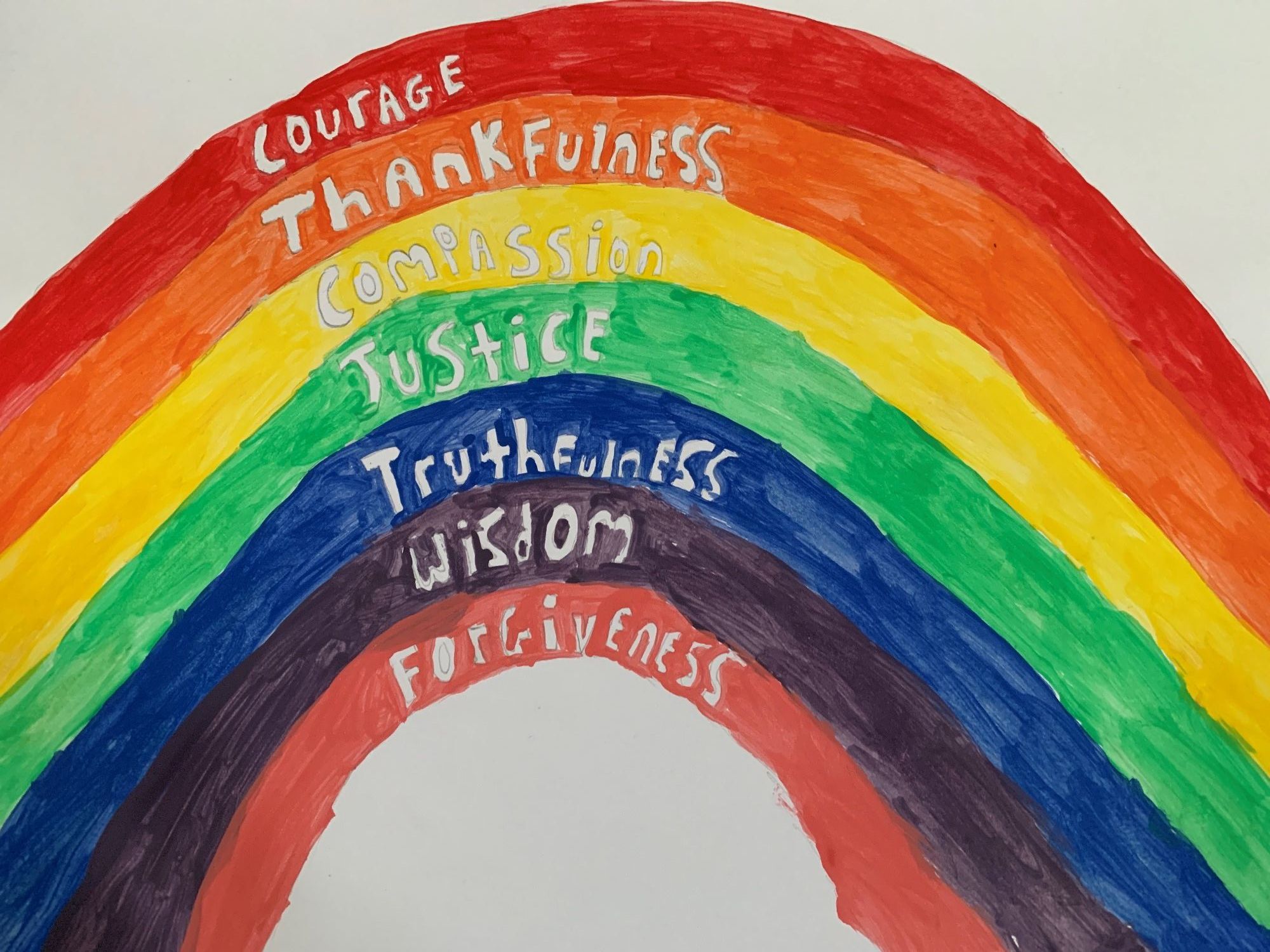 remember our Abberley values: courage, thankfulness, compassion, justice, truthfulness, wisdom and forgiveness. Persevere with your challenges throughout the time we are not in school. Be curious with the world around us. Be creative with our work and use our knowledge to make the world better in the future.
Thought from Annabel
Tuesday 31st March
The moment chick number 5 hatched.
Monday 30th March
I would love to put a video together of you all learning or practising a new skill. Please ask your parents to e-mail or share films (OneDrive [email protected]). Also, I am planning on running an isolation photography competition. Photos must be taken from inside the walls of your home or garden and can feature plants, wildlife or people, but should capture an important moment.
Friday 27th March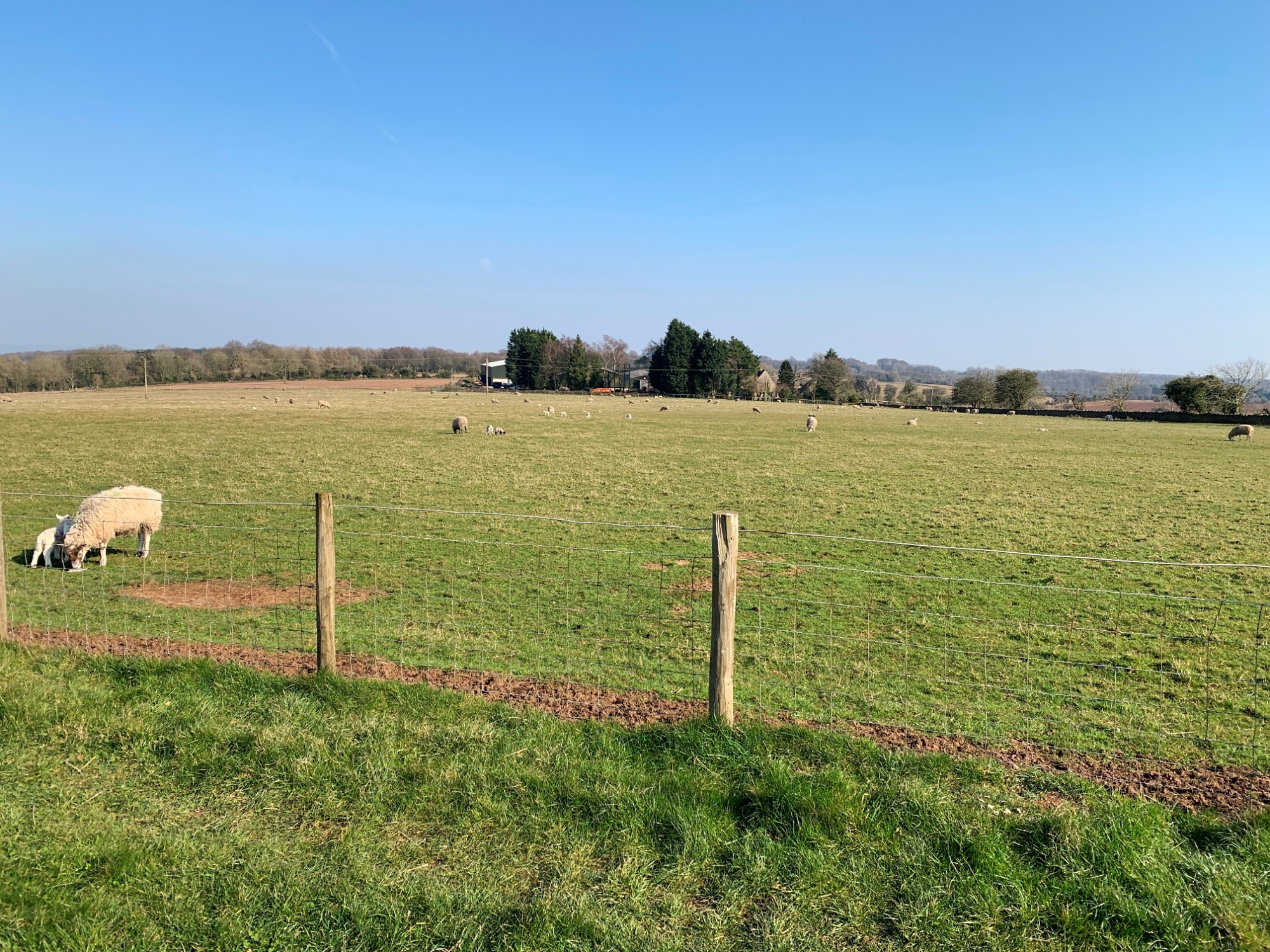 This photo was taken near Broadway Tower this afternoon. It was wonderful to stop and watch the lambs for a short moment (in the middle of my daily exercise). They were playing happily, bouncing around in the beautiful sunshine. It is so important to look up at the sky and feel connected to the world. I hope you are all getting a chance to do your daily exercise, enjoy the sunshine and take small opportunities to be thankful.
Thursday 26th March
I'm not sure that all clouds have a silver lining, but I think that most do. The statement 'every cloud has a silver lining' suggests that something good always comes out of something which, may at first, seem bad. The news has recently suggested that carbon emissions and other dangerous gases have gone down so much since the start of the virus lock-downs. Whilst we may be stuck and business is quiet, this may prove a turning point in how we can shift the way we live to protect our environment.
Wednesday 25th March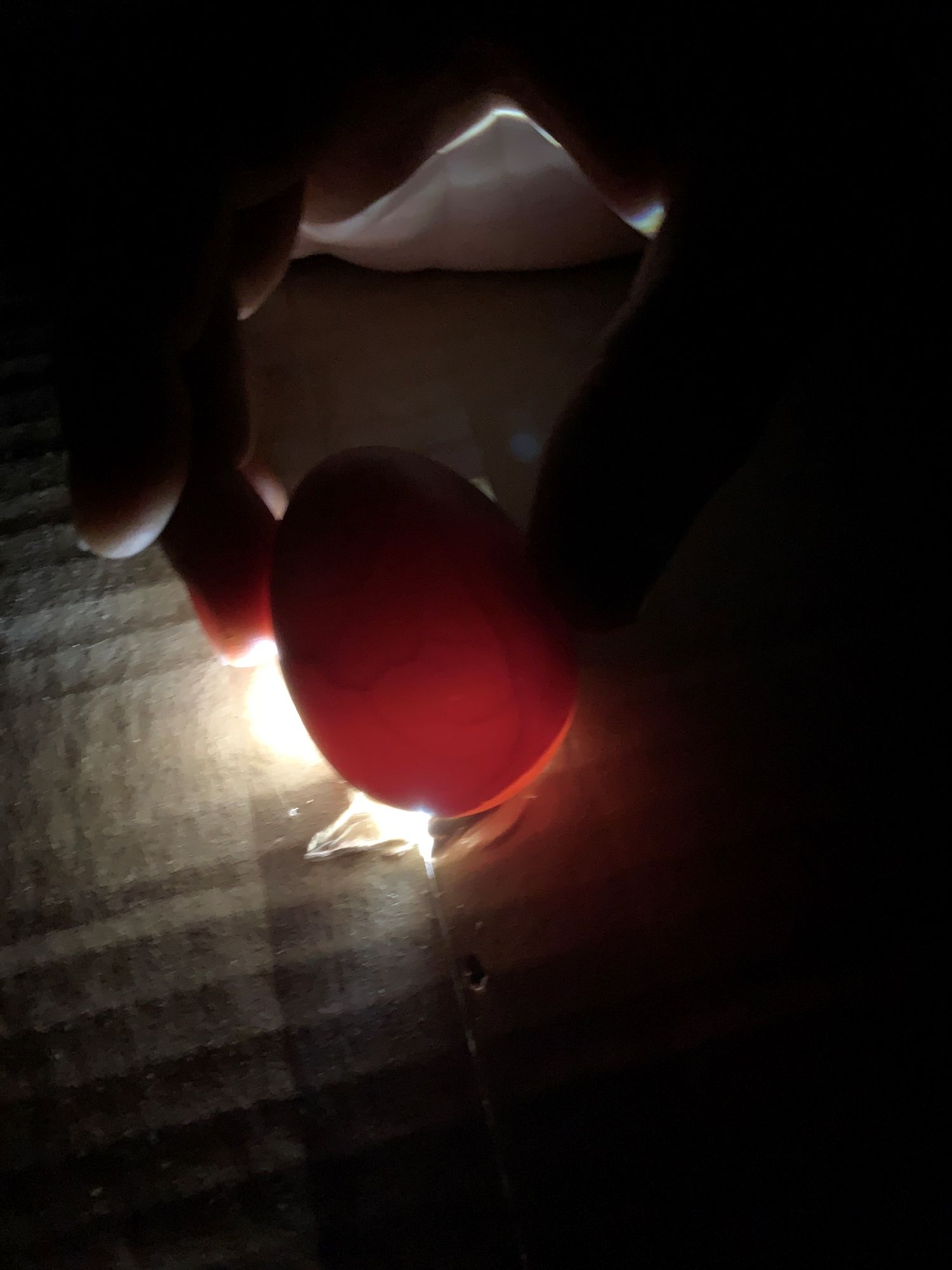 Two weeks ago twenty eight eggs were carefully placed into an incubator near Mrs Day's office. The eggs have now been relocated to Mr Turvey's home, where many of them have been candled and are showing a clear air sac at the one end (which should grow to about a quarter of the egg in the coming days) and several blood vessels showing. Life is a miracle and the chicks are due to hatch on the 31st March, just days before Easter. Life is a miracle and for those people who are Christians, Easter represents a time where we celebrate the gift of life in particular.
Tuesday 24th March
On Friday, we sang Happy Birthday to every child who has a birthday between now and May. It was a sort of happy and sad moment. Happy because we were celebrating and have so much to be grateful for and sad because we would not be able to celebrate together closer to the time. Here is the video of us singing, so when it is your birthday, you can come here and watch so we are in a way together for your special day.
Monday 23rd March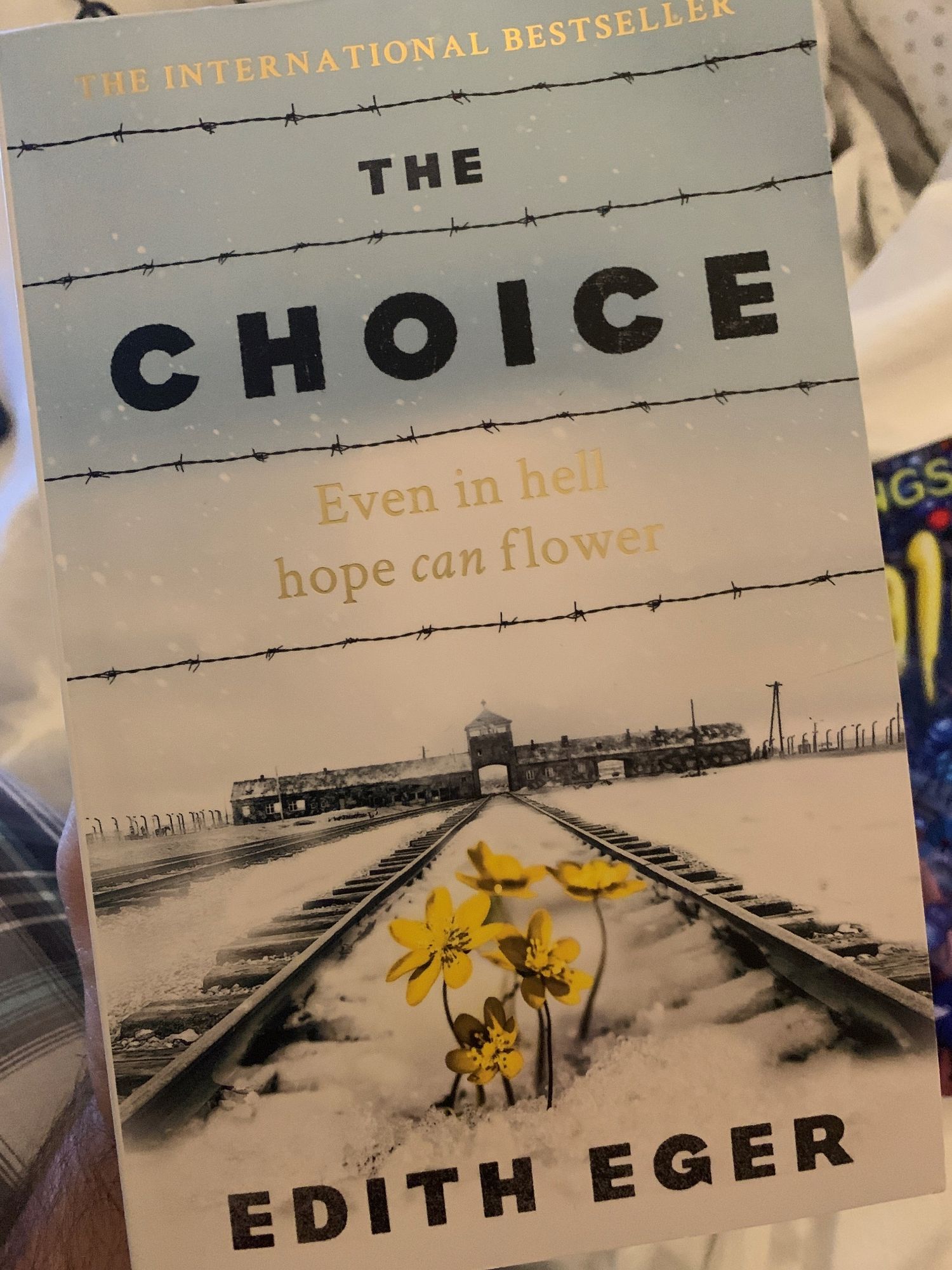 I have recently been reading The Choice by Edith Eger. Edith is a Holocaust survivor who went on to work as a therapist. The lesson of the story so far is that even in the most challenging times we have a choice. As we understand, control our emotions and forgive, we can still find hope and happiness.
As you learn and play today take a moment to think how lucky you are. You have food, space and a family who love you. Be grateful and choose to focus on the positive things. Be particularly patient with each other as we are at home together. We are not used to being kept in the same space with the same people. Forgive each other quickly and avoid being critical if you can.