Friday 3rd April
Hello Wrens
As it would be the end of term today I have decided to do things a little bit differently. So today we are going to do lots of learning activities to celebrate Easter.
Mickey Thompson and Purvis were very busy yesterday afternoon making a Pop-Up Chick Easter card.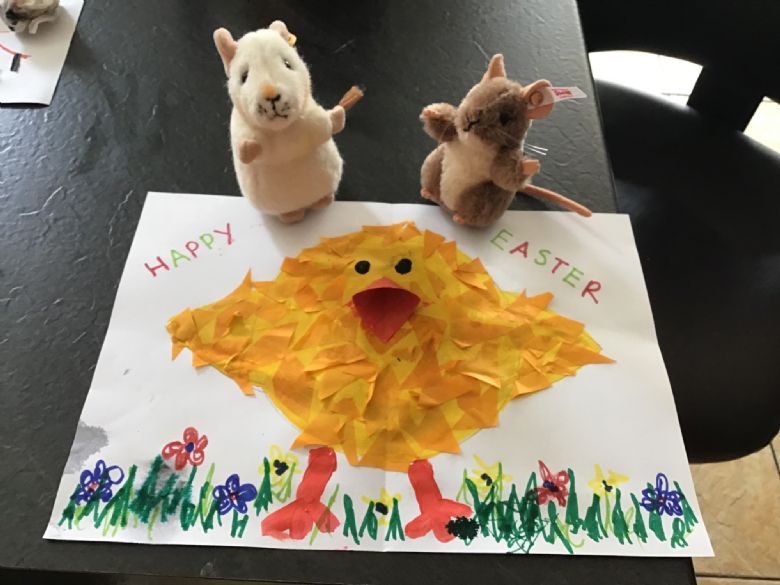 I think it they did a great job. They have included the instructions below which explains how to make the card.
Reception - have a go at following the instructions to make your own Pop-up Chick card. Then write the card to someone you love.
Year 1 - as you follow the instructions to make the card, look at how they are set out and written.
Teaching point - instructions include a title, list of equipment or ingredients, numbered steps of what to do, pictures or diagrams, time connectives (e.g. first, next, then) and bossy verbs (put, cut, paint)
Now it's your turn Year 1 - below is a video that Mickey Thompson and Purvis made (with a little help from Mrs Lightfoot) on how to make play dough. Can you write your own set of instructions to go with the video?
I have included the recipe below to help you.
Teaching point - you can make the instructions as simple or detailed as you like. Remember you do not have to include all the features listed above.
Reception - have a go at making play dough. The recipe is below to help you.
Best Ever No-Cook Play Dough Recipe
You need:
2 cups of flour (any type will do)
2 tablespoons vegetable/sunflower/olive oil (baby oil or coconut oil work too)
1/2 cup salt
2 tablespoons cream of tartar (if you don't have cream of tartar lemon juice also works)
1 to 1.5 cups boiling water (adding in increments until it feels just right)
food colouring (you can also colour play dough with paint and you can add other things like flavouring to make the play dough smell nice)
few drops glycerine (my secret ingredient for stretch and shine!) This is not essential!
Maths.
There are 2 maths Easter themed treasure hunts attached below.
Reception - there are 3 sheets for the Crack the Code Easter Egg Hunt
Year 1 - there are 2 sheets for the Easter Bunny Time Activity. This is much more fun if you hide the eggs over the house and garden.
Other activities.
There are some sports activities attached from our friends at School Games. Also Mickey Thompson and Purvis have attached their favourite Easter baking recipe (more instructions). Mickey Thompson likes to put lots of Easter treats on top of his cakes!
Have a great Easter, don't eat too many Easter eggs and I will see you all very soon.
Best wishes
Mrs Lightfoot