Friday 26th June
Hello Wrens
Yay - it's Friday. So that means it's tricky word day for Reception and grammar day for Year 1.
English.
Reception.
Let's warm up with a tricky word song to practise some of our tricky words.
Blending for reading - Have a go at the tricky word spotter story attached below. How many tricky words can you spot and highlight with your colours? Your grown-up can help you read the story.
Segmenting for spelling - print off the superhero sentences attached below. Can you finish the sentence using some of your tricky words? Can you write a new sentence about the superhero using tricky words?
Parents - there are a number of sheets and two sentences on each sheet so please only choose 1 print.
Year 1.
We have been learning about adding suffixes to the end of words to change their meanings. Can you remember the suffixes we have learnt so far?
ing, ed, er and est
Today we are going to use that knowledge to write our own superhero story. Choose one (or more) of the superheroes below and write a short story about them. Don't forget to add your suffixes.
For example - One day Spiderman was swinging from a building. He knew he was the fastest web spinner in town.
Can you spot all the suffixes we have used? Don't forget you sometimes need to double the last letter before adding your suffix - spinner
Maths.
Reception.
We should be starting to remember our number bonds to 10 now. First let's sing our number bond song, which is attached below.
Let's test our number bond knowledge with some of the games below.
Museum of tens. Explore the museum using number bonds. Allows you to count the objects and decide how many more are needed to make 10
Save the whale is another good number bond game. Use your number bond knowledge to mend the pipes to help the whale escape! Good for number bond recognition.
Hit the Button. Quick fire number bond questions - good for rapid recall! Click on the link below, select the green number bonds button and choose to 10. How many can you get right?
Now see how many of your number bonds to 10 you can remember?
Using the penguin sheets below - cut out the eggs. Can you make your number bonds to 10 by giving the right penguin the right egg?
For example penguin 3 would need egg 7 because 3 + 7 = 10. Remember you can use your counters or your fingers to help!
Year 1.
For the last couple of days we have been learning about counting on and how this may look in different number calculations. Today we are going to apply our knowledge to some reasoning and problem solving activities. First of all work through the powerpoint attached below.
Parents - your child may find it easier if you print off some of the sheets from the powerpoint so they can have them in front of them to work out.
Then choose one of the 3 levels of reasoning and problems solving sheets. They are quite tricky today so work down one column first before moving across to the second one. If you don't feel ready for a problem solving activity yet, why not try another fluency sheet from yesterday.
Topic.
Today we are going to be thinking about all the superheroes we saw on the powerpoint yesterday? Can you remember them all? Who was your favourite? I have attached the powerpoint again below if you want a quick recap.
Now it's your turn.
i want you to imagine you are a superhero. What would your superhero power be?
Do you want amazing strength like the Hulk?
What about great gadgets and crime fighting skills like Batman?
Maybe you want the power to fly like Ironman or stretch like Elastigirl?
When you have come up with your super power you need to decide your superhero name. Your name needs to tell us something about your superpower.
Finally you need to think about what you will look like. What will your superhero costume look like?
Using the paper attached below draw yourself as a superhero and then write a sentence (Reception) or sentences (Year 1) to tell me all about your superhero power. Don't forget to write your superhero name!
Look at Mickey Thompson and Purvis.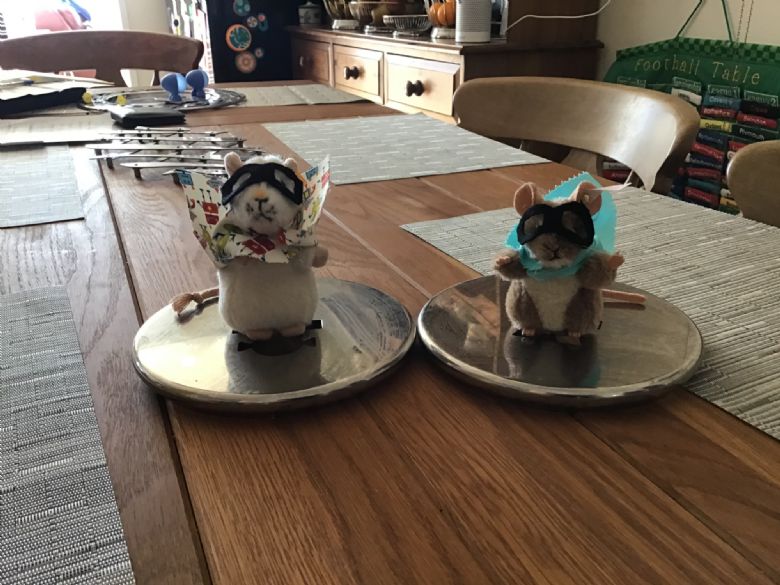 Mickey Thompson is Supermouse and his super power is that he can eat anything, even rubbish - really good for cleaning up the environment!
Purivs is Albert Mousestein and he is super clever and really good at solving problems.
Apparently they can both fly too!
Have a wonderful weekend!
Best wishes
Mrs Lightfoot (and Purvis and Mickey Thompson)